Vance Brescia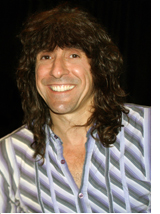 Vance is a singer, songwriter and performer whose talent has amazed audiences since the 1980s. In 1986 The Monkees recorded and made a Top 20 million seller of his song, That was Then, This Is Now as a single from their Then and Now … The Best of the Monkees album and theme of their 20th Anniversary Tour.
He has a sound of his own and a versatility that goes beyond the songs of one style of music, illustrating his influence by songwriters and artists spanning decades. Known for his keen lyrical sense and perfectly arranged harmonies, his focus has been on songwriting and live performance for most of his career. His first solo CD, released in 2007, was followed by several singles, a holiday CD and a series of singles now available as a collection. His newest release was in January 2016. He has written songs for other artists and his tracks have been used in movies, including a 1991 John Travolta movie.
Vance has thrilled crowds with his dynamic stage performance as guitarist and Music Director for Herman's Hermits Starring Peter Noone since 2001. He has also performed as a solo artist and with bands at the top clubs in New York City including the Hard Rock Café, Peppermint Lounge, China Club and Irving Plaza. He also works with music as therapy for seniors with various levels of memory challenges in nursing homes and community programs.
Prior to Herman's Hermits and The Monkees recording his song, he was lead vocalist, songwriter and guitarist for The Mosquitos during their run in the early to mid 80s as one of the most popular club bands in NYC with performances at Peppermint Lounge, Beacon Theater, Irving Plaza and Folk City. The group gained the notice of trade publications and was known for original songs when most bands were doing only covers. In 1984-85 the Mosquitos presented acoustic shows long before MTV's unplugged. The million seller Monkees hit , That Was Then, This Is Now, was a cover of the title song from The Mosquitos 1985 five song EP.
Vance's music is available for placement in film, television and advertising.

Return to Meet Vance (the long verison)