Continued interview ...
How did you come up with The Mosquitos as a name for the band?
I was a 60s pop culture fan. The Mosquitoes were a rock band who ended up stranded on the island in an episode of Gilligan's Island. They did a parody of the Beatles and I figured why not? The Mosquitos it was!
Did you do other entertainment or performing at the same time as The Mosquitos?
Yes, I was always busy with something. To wind down from The Mosquitos I would hang at local places with friends, or sometimes it would just be me and my guitar. I remember


doing lunch time shows at a gourmet deli in Syosett. We frequented Desanns and Gunthers of Jack Kerouac fame. One time Tony, Pete and I did "I Am the Walrus" and the audience loved it. After that Beatles tune we became known as The Eggmen.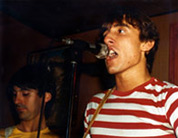 "I am the eggman, they are

the eggmen. I am the walrus, goo,goo g'joob."

I met this guy named Dee Harris in those early days. He was a kind of a rennaisance man - one of those ageless characters who was always around. He suported me with advice. I listened to his suggestions and then harnessed the attributes he encouraged.